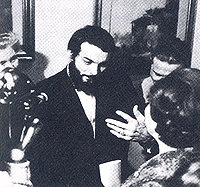 (includes the painting catalogue)
Abstract from " Sap in the bramble "
From the preface, by Raffaele de Grada
"Daniele Scaglioni is so deeply steeped in poetry and colour to make is mission to become a painter of beautiful things. This book looks at ten years of his work, 350 paintings, the most beautiful gifts of Daniele to his friends. Before meeting him in person I saw his paintings, his drawings. They contained an unusual message, they contained pain, but instead of being expressed shouting, the pain was tempered by the love for the faces even as they were frowning, and for the landscapes, even as their trees were often bare.